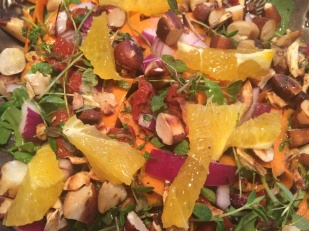 Ingredients:

1 deciliter fresh thyme
70 gram rucola
1 deciliter sundried tomatoes (from a jar marinated in oil)
1 carrot
1/5 red onion
1 orange
6 garlic cloves
1 deciliter brazil nuts
Herbal salt

Preperations:

Peel and cut the onion and slice the orange. Save one orange clove to the dressing. Cut the sundried tomatoes, garlic and nuts in smaller pieces. Roast the garlic in a dry pan with high heat until it has nice color. Scale the carrot. Use a cheese slicer to make thin long stripes of carrot.
MIx all the ingredients in a salad bowl. Add herbal salt and pepper.