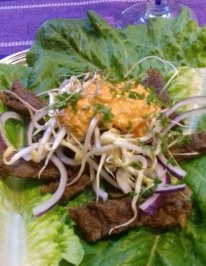 Recipe for 4 portions

Vegan kebab:

250 gram mushrooms
1 onion
2 garlic cloves
1 cooked potatoes
2 deciliter bread crumbs
2 tablespoons tamari
4 big lettuce
180 gram bean sprouts
1 red onion

Romesco salsa:

2 deciliter hazelnuts
3 grilled peppers (from a can or a jar)
lemon juice from 1/2 lemon
2 garlic cloves
1 deciliter olive oil
Salt

Preperations

Preheat oven to 200 degrees C. Slice onion and mushrooms and fry them in a pan with olive oil for a couple of minutes. Mix the fried vegetables in a blender with pressed garlic, potatoes, tamari and bread crumbs. Use a spoon to spread the mixture on an oven tray coved with baking paper. It should be about 1/2 cm thin layer. Sprinkle some sesame oil on top and heat in the oven for 30-35 min. Let it cool and cut in stripes.

To make the salsa, roast the hazelnuts in a dried pan and mix in a blender. Add the rest of the ingredients and mix everything to a salsa.

Place a big lettuce on a plate and top with vegan kebab, red onion, sprouts and salsa.