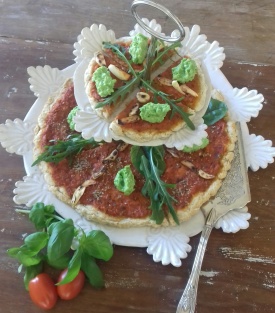 Pizza dough:

6 deciliter what flour
1 deciliter dry wheat sprouts
1 deciliter rye flour
4 teaspoons baking powder
1 deciliter olive oil
2,5 deciliter cold water

Tomato sauce:

2 cans crushed tomatoes
1 can filled with water
1 union
1 red union
3 garlic cloves
1 stock cube (veggie)
30 g frozen basil
1 teaspoon salt

Peas puree:

3 deciliter frozen grean peas
2 tablespoons nutrional yeast
1 teaspoon salt
i tablespoon olive oil

Topping:

Rucola
Roasted garlic
Dried oregano

Preperations:

Mix all the dry ingredients to the pizza dough and add olive oil and water. Knead the dough and roll in to a thin pizza base. Put it into an oven tray covered with baking paper.

To make the sauce, chop unions ans fry them in a pan with some olive oil. Add pressed garlic, crushed tomatoes and water. When it starts to boil add the stock cube and stir. Let it simmer for 20 min. Take it from the stove and add the basil. Mix the sauce in a blender.

Let the piece cool and then mix them in a blender together with nutrional jeast, salt and olive oil.

Spread the tomato sauce on the pizza base and heat in the oven (250 degrees C) for 15 min. Put the topping, oregano, peas puree and roasted garlic cloves.